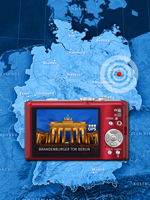 With a strong heritage, this fourth generation TZ model features a high-quality Leica DC Vario Elmar 25mm ultra-wide-angle lens with a 12x optical zoom. A high quality lens like this, with a range from 25mm to 300mm*1, is almost inconceivable in such a small, lightweight camera. Comprising 10 elements in 8 groups, including 2 ED lenses and 2 aspherical lenses with 3 aspherical surfaces, and utilizing new lens material in its design, this advanced lens unit realizes the outstandingly slim and compact body while passing Leica's stringent standards to deliver exceptional optical performance. Thanks to the newly incorporated Intelligent Resolution technology, a ground-breaking Intelligent Zoom is available with the TZ10 which extends the zoom ratio by approx.1.3x maintaining the picture quality even by combining zoom technologies. This means the 12x optical can virtually extend to 16x equivalent. Furthermore, the Extra Optical Zoom function that extends zoom power to 23.4x (at 3-megapixel resolution) by using the center part of the large CCD to bring subjects even closer.
The new model has a 14.5-megapixel CCD and shoots with up to 12.1-megapixel resolution. This enables multi-aspect shooting that can reproduce images taken with the lens set from 25mm to 300mm in any of three aspect ratios – 4:3, 3:2 or 16:9.
Panasonic's TZ series has received world wide acclaim as an excellent travel companion because of a wide shooting range and hybrid recording capability of high quality photo and movie. The new TZ10 further enhances its value by adding a built-in GPS unit(2009 Navteq) into the camera. The location data where the photo was taken is automatically embedded with its latitude and longitude in the EXIF data. These geo-tagged images can be pinpointed on the maps of social media internet maps to be shared with your friends and families. Plus, the TZ10 also shows the name of the town, area and landmarks using an internal database to give users real-time information of the place when taking photos to add fun of photo shooting during travel. The information of landmark exceeds 500,000, covering 73 countries – pretty impressive! The photos and movies with their location data are automatically sorted in the virtual folder alphabetically in the camera allowing quick access. You can also refer to the location names via the included software PhotofunStudio HD Edition Ver.5.1. It is also easy to sort or search images by the location names.
The optional marine case (DMW-MCTZ10) is available for underwater photography taking advantage of an outstanding shooting range from 25mm to 300mm for both photo and movie.
In addition to the conventional SD/SDHC Memory Card, the DMC-TZ10 accepts next-generation SD format SDXC (SD eXtended Capacity), that features high potential in both capacity and data transfer speed. The DMC-TZ10 is compatible with Windows 7.