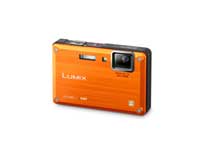 The TS1's tough and rugged design makes it the ideal choice for active users needing the ultimate hybrid for capturing both still and motion images during outdoor activities. The Lumix TS1, with a 12.1 megapixel resolution, features a 28mm wide-angle Leica DC Vario-ELMAR lens, a 4.6x optical zoom and Panasonic's proprietary iA (Intelligent Auto) mode, making this an easy-to-use, yet powerful camera that packs advanced imaging features. The TS1 is waterproof to a depth of 10 feet, shockproof from falls up to 5 feet, and dustproof. With its rubber padding, reinforced glass and carbon resins inside the camera, the TS1 features an airtight body protected against water immersion, dust and sand.
Starting at the 28mm wide angle, and zooming up to a useful 128mm in telephoto, the TS1 gives users the flexibility for a variety of shooting environments – especially underwater, where movement is often restricted and the angle of view becomes important for composing shots. The TS1 also features a 2.7-inch, 230,000-dot Intelligent LCD with a wide viewing angle, enhancing visibility during recording and playback by automatic brightness control according to the environment's lighting conditions. Plus, the TS1's LCD panel is deliberately thickened for protection against pressure, allowing the display to operate with clear visibility even underwater.
The TS1 records AVCHD Lite HD video, allowing almost double the recording time in HD quality compared with the conventional Motion JPEG format. The TS1 also features Dolby Digital Creator to record high quality audio to match the high-quality motion images. Also new in 2009, the TS1 features iA mode for both still images and in Movie Mode. For iA in Movie Mode, the TS1 features Optical Image Stabilization (O.I.S.), which helps prevent handshake when using high-powered zoom. Face Detection automatically detects a face in a frame and adjusts focus, exposure, contrast, and skin complexion on the face. Intelligent Exposure continually checks the ambient light level and adjusts the exposure setting as conditions change to prevent blown highlights and blocked shadows. And Intelligent Scene Selector automatically switches between Normal, Portrait, Macro, Scenery, and Low Light modes according to the situation to optimize visual quality. A Wind Cut function is also available to block out most of the noise from background wind. Optical zoom can be used in motion image recording. Users can start video recording by simply pressing a dedicated button on the camera's back panel. The TS1's iA for still image adds Face Recognition– a feature that "remembers" faces from previous shots.
The imaging power of Lumix has further evolved with the Venus Engine HD, which boasts two CPUs to provide approx. 2.4x processing capability and support for Face Recognition, AVCHD Lite and HDMI output. It integrates the numerous advanced functions with high performance, and low-power consumption. Thanks to the Venus Engine HD, it's easy to view photos or movies recorded in AVCHD Lite. Simply insert the SD Memory Card from the camera in the Panasonic Viera HDTV's Image Viewer SD Memory Card slot to start playback, or connect the camera via an optional HDMI mini cable to a Viera Link-equipped Panasonic Viera HDTV and use the TV's remote control to run slideshows.
This multi-task image-processing engine also enables a fast response time. The TS1 starts up quickly in 1.3 seconds and shutter release time lag is approximately 0.005 seconds, making it easy to capture sudden, spur-of-the-moment photo opportunities. The Flash Burst mode makes it possible to take consecutive shots with continuous emissions of the flash. The Venus Engine HD also supports a High Sensitivity mode that lets the TS1 record up to ISO 6400, sensitive enough to capture subjects in near-total darkness without using a flash. Despite its outstanding performance, the high performance engine is also more energy efficient, extending the battery life up to 340 shots (CIPA) per a single charge.
The Panasonic Lumix DMC-TS1 will be available in silver, green or orange models in April 2009 for a suggested retail price of $399.95.