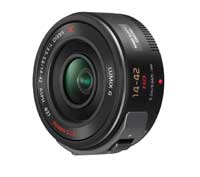 Panasonic's new premium Lumix "X" Series of lenses, including the Lumix G X VARIO PZ 14-42mm/F3.5-5.6 ASPH./ POWER O.I.S., offers a versatile zoom range of 14-42mm (35mm camera equivalent: 28-84mm) suitable for a wide range of scenes, such as dynamic landscape to portrait. Also announced today is another Lumix X lens, the Lumix G X VARIO PZ 45-175mm/F4.0-5.6 ASPH./POWER O.I.S. Crystallizing Panasonic's optical technologies, the Lumix X lenses feature superb image rendering for lifelike textures, crisp edge-to-edge contrast, a unique Nano Surface Coating to help minimize ghosts and flaring in natural settings with remarkable transparency.
With the Lumix GF3X, the camera and lens combination can achieve Light Speed AF of approximately 0.1 second – making it an extremely quick and high-performing digital camera. The Lumix GF3X with the new 14-42 PZ lens also features POWER O.I.S. (Optical Image Stabilizer), to make it easier to shoot clear photos even in low-lit situations. The convenient zoom lever on the lens barrel gives users a stable way to zoom. Manual focusing is also available with a manual focus lever for even more precise control.
The Lumix GF3, like all the Lumix G Series of Compact System Cameras, captures high-quality photo images with real-to-life details through excellent resolution, image rendering and color reproduction. With its stunningly small compact profile, the Lumix GF3 boasts high-speed, precise Contrast AF system and quick response times. The Lumix GF3 is also capable of 1920 x 1080 Full High Definition video in the AVCHD format.
The Lumix GF3X will be available in a black body and black lens or a silver body and silver lens kits options in October 2011 for a suggested retail price (SRP) of $749.99. The new Lumix G X VARIO PZ 14-42mm/F3.5-5.6 ASPH./ POWER O.I.S. (H-PS14042) lens will also be available separately for an SRP of $399.99 and will be compatible the Panasonic Lumix G Series.