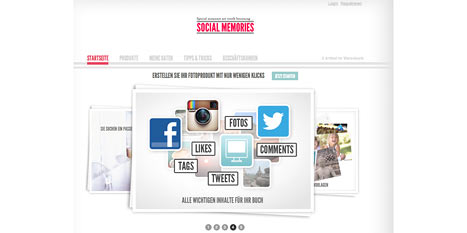 Social Memories, which won the internationally coveted red dot design award last year was launched in May 2011. With a Facebook community of over 44,000 fans today, the platform, which was presented to the international imaging industry at the Business Forum Imaging Cologne 2012, was an immediate success Users can take content from their privately stored image files, such as vacation shots and party pictures, and combine them with Facebook content to create their very own personal book of memories. Content from other social networks such as Twitter and Instagram can also be used with the new version of the application. The user-friendly interface makes the design of the books quick and easy.
The portal allows users to create a final product in just a few simple steps. In fact, the Social Memories application calls for just a few clicks – or touches, for tablet users – and the memory book is designed, done and ready to order.
The user is given five design templates to choose from to create a stylish and top-quality product. Video and web content can be integrated by means of QR codes. Starting at the end of December, Social Memories can also be used to create wall calendars in A2 and A3 formats. Included in the wall calendars are the birthdates select Facebook Friends and a photo documentation of last year's most important events.
Business customers will also soon be able to make use of the Social Memories application, taking dialogue marketing and the opportunity for customer acquisition and retention to an all-new level. Social Memories allows companies to use its photo book templates and brand them as their own, adding personal content and photos as they like. Using coupons or links through their own websites, companies can lead their customers onto an individually customized design application.
For information about the photo books (formats and pricing) please visit www.socialmemories.com