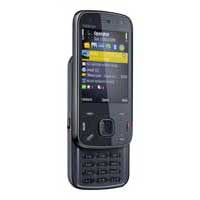 Every detail of the metal-framed Nokia N86 8MP is thoughtfully designed with photography in mind, including 8 GB of internal memory for up to 4,000 images. Like any high-end digital camera, the memory can be increased with an exchangeable 16 GB microSD card. The device also offers a bright OLED screen with scratch resistant hardened glass, easy photo management, full sync capability with a PC and TV-out support for slide shows.
Shipping with the latest version of Nokia Maps and full Ovi integration, the Nokia N86 8MP gives a personal dimension to photos and videos. People can share their location with personal content like geotagged photos. The Nokia N86 8MP comes with a built-in compass, along with an integrated 3-months license for full voice and pedestrian navigation so that happy snappers don't lose their way when capturing life through the camera lens.
The Nokia N86 8MP, with its integrated kick stand, is ideal for watching videos and playing games. Each Nokia N86 8MP can play up to 25 hours of music on one charge which can be enjoyed with the Nokia Bluetooth Stereo Headset BH-214 also announced today. People can build a personal music collection from the millions of tracks and playlists available from the Nokia Music Store, where available.