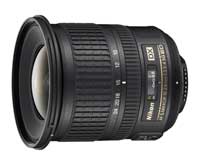 The AF-S DX-Nikkor 10-24mm f/3.5-4.5G ED lens offers an array of versatile Nikon technologies, including Nikon's compact Silent Wave Motor (SWM) technology for quiet, fast and accurate autofocus performance. An advanced optical formula, featuring two extra-low dispersion (ED) glass and three aspherical lens elements renders stunning images while minimizing distortion, a common problem with ultra wide-angle lenses.
A rounded diaphragm opening, combined with the seven-blade aperture, contributes to the 10-24mm lens' ability to capture images with soft background effects, referred to by experienced photographers as the "bokeh." Additionally, the new DX- Nikkor lens offers the user two focus modes; manual and automatic and features an M/A mode that allows the photographer to quickly switch between the two modes. Both use an internal focusing (IF) design that enhances AF speed and eliminates lens barrel rotation and changes to lens barrel length during focusing.
Fully compatible with Nikon's complete line of DX-format digital SLR cameras – including the D300, D90, D60, D40 and the newly announced D5000 – the AF-S DX- Nikkor 10-24mm f/3.5-4.5G ED lens enables photographers to broaden their view in new and interesting ways. FX-format shooters can also benefit from the AF-S DX- Nikkor 10-24mm f/3.5-4.5G ED, as Nikon's FX-format cameras – the D3X, D3, and D700 – will automatically apply the DX-Crop Mode when shooting.
The AF-S DX- Nikkor 10-24mm f/3.5-4.5G ED will be available at Nikon authorized dealers beginning May 2009 at an estimated selling price of $899.95