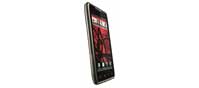 The Motorola Razr Maxx is equipped with a camera with 8 megapixel resolution and an LED display as well as with a 1.3 megapixel front camera for video chats.
Razr Maxx delivers up to 17.6 hours of talk time. However, its 1GB RAM combined with a dual-core 1.2GHz processor and Android operating system will ensure being always entertained, delivering a lightning-fast user interface and the power to multi-task like never before. Playlists can be rocked while checking email, breeze through photos – all day, every day, all at the same time.
Smart Actions, the remarkably intelligent application exclusive to Motorola Mobility, pushes the limits even further by automating everyday tasks based on triggers like time of day, location, battery levels and more.
Motorola Razr Maxx also comes preloaded with the Motorola MotoCast app, giving the possibility to stream or download content from a home or work computer straight to the device so pics and music are always available – anytime, anywhere.