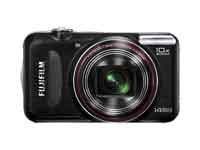 With an impressive resolution of 14 megapixels, the FinePix T200 delivers files that can be printed out at A3 without the need for any software re-sizing. Equally impressive is the 10x zoom range, which stretches from 28-280mm (35mm equivalent). This powerful mix of features will ensure users can capture great images in no time, be they wide-angle land and cityscapes or closely cropped portraits and distant details.
In addition to the 10x zoom, the T200 also comes equipped with a powerful CCD shift Image Stabilisation (CIS) system that helps eliminate camera shake and deliver high quality images in a wide variety of lighting conditions.
CIS works during the exposure to counteract any hand movements. The result is an expanded range of shooting situations where the T200 can be used without the need for a tripod or other support. With CIS working hard in the background, you can capture sharp, colourful scenes and portraits at night. Plus, should the light be really low, the maximum sensitivity of ISO 3200 can be selected so you can keep shooting.
Compact dimensions, perhaps, but this hasn't affected the size of the rear LCD, which measures an impressive 2.7 inches from corner to corner. Images and menus are displayed in all their 230K dot glory, plus composition is easy on the large screen.
A heavy, bulky camera is the last thing you need when you're trying to travel light. The T200 is just 28.1mm thick and 97mm wide, so it'll easily store in the corner of a travel bag or a jacket pocket. What's more the camera is available in 4 colours, so there's bound to be one to suit your taste.
The FinePix T300 is just one of two models in the new T series range. It's joined by the FinePix T200, which shares many of the same features, but an even smaller price tag. Key differences between the two include a resolution of a smaller 2.7 inch rear LCD that uses 230,000 dots.