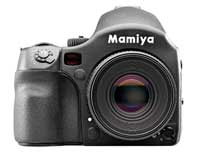 The Mamiya DL33 Digital Camera System offers professional features and benefits. For example, even though the DL33's resolution is an impressive 33 Megapixels, its large sensor allows a pixel size of 7.2 microns. At 36 x 48mm, the DL33's sensor is twice the size of full frame DSLR cameras. Larger pixels also produce images with unmatched richness and color accuracy, smooth, subtle transitions from tone to tone and striking highlight and shadow detail. In addition, the larger format produces images with a more three-dimensional look. The 3.5-inch touch screen, the largest in the industry, offers a bright, high-contrast display ideal for outdoor or indoor work.
The DL33 combines the professionally proven Mamiya 645AFD III camera system with the innovative 33 megapixel Aptus-II 7 Digital Back from Leaf. Together they work as an integral unit with an intuitive ease that virtually any photographer will appreciate. The 645AFD III body has a new coreless motor for faster, more accurate autofocusing and an enhanced interface system that provides total communication between the camera, lens and digital back.
With 16-bit capture, 12-stop dynamic range and an ISO range of 50-800, the Mamiya DL33 is a full-featured professional digital solution. The 33 MP back produces a huge 67Mb RAW file that can be converted into jpegs, 8-bit or 16-bit tiff files (a 16-bit tiff file is 190 Mb). Files of this quality deliver the information needed for striking enlargements of virtually any size. And for those times when you can't get close enough to your subject, you'll have the confidence to crop a small portion of the image without a noticeable loss in quality.
In addition to using the included Leaf Capture 11.2 software, you can also open Leaf RAW files with commonly used programs including Adobe Photoshop CS3/4 (with the latest version of ACR software), Lightroom 2 and Apple Aperture 2.
When utilizing the fastest compact flash media storage currently available, the Aptus II 7 back can capture images at approximately 1 frame per second. You can also use the included Fir
During the months of April and May, customers who purchase a Mamiya DL33 will receive a free AF 55mm f2.8 or AF 150mm f3.5 lens directly from Mamiya (an $1100 value).
The Mamiya DL33 will be available April 2009. MAP price is $19,999.