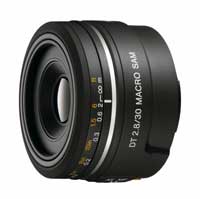 The SAL50F18 is a light, bright portrait lens offering superb optical performance at a price that's irresistible to first-time DSLR users. With a wide F1.8 aperture, it's ideal for capturing crisp, beautiful portraits in natural light with smoothly defocused backgrounds. AF performance is quiet and precise thanks to the inbuilt Smooth Autofocus Motor (SAM).
DT 18-55mm F3.5-5.6 SAM and DT 55-200mm F4-5.6 SAM
There's a growing choice choice of over 30 affordable, high quality lenses to exploit the limitless creative possibilities of α. The range is expanded further with two light, affordable new zoom lenses. Both cover a useful range of focal lengths to expand creative options without weighing you down. The two new zooms also offer smooth AF operation thanks to an inbuilt Smooth Autofocus Motor (SAM).
The DT 18-55mm F3.5-5.6 SAM telephoto zoom is an ideal choice for everyday shooting. It's complemented by the DT 55-200mm F4-5.6 SAM telephoto zoom that draws distant subjects closer with a maximum focal length equivalent to 300mm (35mm equiv.)
HVL-F20AM ultra-compact external flash
Brighten up any moment with this versatile, easy to use external flash for your α digital SLR. Slim enough to slip into a shirt pocket, the HVL‑F20AM is an ideal add-on for anyone who wants an extra light source to supplement their camera's pop-up flash.
Weighing less than 100g, the smartly-styled HVL‑F20AM folds down to keep a low profile when it's not being used. Just pull the flash head up – it's powered up and ready for use whenever it's needed. There's also a handy switch to select Bounce flash operation. This gives indirect lighting for more natural results with portraits and other subjects that can get bleached out by direct light from an inbuilt flash.
The HVL-F20AM doubles as an ideal wireless flash controller for the full-frame α900. While Sony's flagship DSLR does not have its own integrated flash, the HVL-F20AM can be used as an inexpensive trigger for wireless remote flash heads.
New lifestyle accessories
There's now a wider choice of accessories to protect your α camera.
Adding a distinctively feminine touch to the α family, the LCS-TT10 is a new-concept carry case that is both functional and fashionable. There's space inside for the camera plus kit lens and an extra lens as well as personal accessories. It's finished in smart beige canvas, and features two side pockets plus a removable shoulder strap.
The new LCS-WR1AM is an ultra-soft, high-quality protective wrap that guards the camera and attached lens from scratches. Available in black, white or brown, it's a funky alternative to carrying a standard camera bag.
It's complemented by a new handstrap – also available in black, white or brown – that attaches to the camera body for comfortable, secure shooting. The LCS-LC1AM is a lens cap holder for convenient storage of the lens cap, which can be mounted on the camera shoulder strap, grip, hand strap or belt (belt mount requires optional carabinier – not included). Also available in black, white or brown.
1:1 macro lens DT 30mm F2.8 SAM
Under development for Autumn 2009, the SAL30M28 makes 1:1 life-size imaging more accessible. This small, light macro lens opens up exciting new creative possibilities with a detail-packed view of the world in close-up. High quality optics can focus clearly on flowers, insects and other subjects from as close as 2cm away. There's also an inbuilt Smooth Autofocus Motor (SAM) for quiet, precise AF performance.