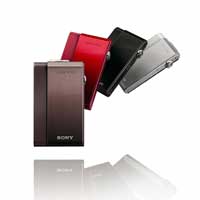 The intelligent auto mode, available on the T900, T90, W290 and H20 models helps "think" for you and detect scene conditions then adjust settings, especially in difficult lighting scenarios. Additionally, intelligent auto mode enhances pictures of faces to capture natural skin tones, identifies when your subject has closed eyes, and helps reduce blur without damaging image quality.
Intelligent scene recognition (iSCN) detects up to eight scenes, recognizing objects, faces and lighting conditions (e.g. low light and backlight). Then, in one-thirtieth of a second, it changes the setting to get the best shot.
Face detection registers up to eight faces; adjusts focus, exposure, white balance and flash; and detects motion. This intelligent camera combines face detection with iSCN, featuring blink detection. It takes two pictures and saves the one in which the subject's eyes are the least shut.
The W290 and H20 cameras also have selected-face memory, allowing you to zero in on the main subject's face. The next time the camera detects the priority face in the frame, it will automatically focus on that person.
The W230 model has iSCN that detects up to five scene conditions, face detection with child and adult priority, and the Optical SteadyShot image stabilization feature. You can turn on these features in auto mode to make the W230 camera intelligent.
All of the new cameras have the Optical SteadyShot feature and Smile Shutter technology. The Optical SteadyShot image stabilization feature helps prevent blur due to camera shake without impacting image quality. Equipped with Sony's Smile Shutter technology, these cameras automatically capture a smile the moment it happens.
Another advanced feature that sets these cameras apart from most digital still cameras is iSCN advanced. Noblecilla said the iAuto feature increases the chances of getting a great shot. You can also set up iSCN advanced as a permanent feature. When the scene has difficult lighting such as backlight or low light, the camera will take two shots within a fraction of a second using two alternative settings, so you can select which picture you prefer.
The W290, H20, T90 and T900 cameras feature wide and full-screen 720p movie recording at 30 frames per second in fine, standard and VGA recording modes. The 720p movie resolution is three times higher than VGA movies.
The movie function is based on the MPEG4 codec for video compression. Plus the T900 has a stereo microphone. Benefits of the format include high-quality video as well as PC-friendly files that are easy to download, upload and share.
The W230 camera has 12.1 megapixels, 4x (30mm) Carl Zeiss® Vario Tessar optical zoom lens and 3-inch (measured diagonally) LCD screen. The W290 model adds a 5x wide (28mm) optical zoom lens.
The T90 camera also has 12.1 megapixels and a 4x Carl Zeiss Vario Tessar optical zoom and 3-inch (measured diagonally) wide touch-panel LCD screen. The T900 camera adds a larger 3.5-inch Xtra Fine LCD screen that delivers high resolution images (921,600 dots), which is approximately four times higher than conventional LCD screens.
The H20 model features 10.1 megapixels, a 10x Carl Zeiss optical zoom lens and a 3-inch (measured diagonally) LCD screen.
The T900 camera will be available in silver, black, red and bronze for about $380. The T90 model will be available in silver, black, pink, blue and brown for about $300.The W290 model w ill be available in silver, black, blue and bronze for about $250. The W230 camera will be available in silver, black, blue and red for about $200. And the H20 camera will be available