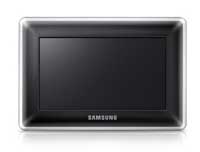 "With the SPF-87H's 1GB internal memory, people are no longer limited to the photos they can have because of space or cost and can now put years of memories right on their desks," said J.H. Kim, President of Samsung Electronics America's Information Technology Division.
For portability, the SPF-87H's Ultra Slim and innovative ball hinge design allows it to be placed in any location. With its crystal-like charcoal Touch of Color frame, the SPF-87H wide 8" screen offers 800×480 resolution and a 500:1 contrast ratio that makes electronic photos sharp and clear. An SD slot is available for downloading photos directly into the 87H's internal 1GB memory.
In addition to running photo slide shows in a variety of formats, the SPF-87H can be linked to a computer and serve as a secondary mini-monitor. With its Power Saving feature, the photo frame runs on minimal power through its USB cable. The MSRP or it is $129.