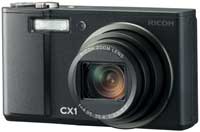 With new image processing engine Smooth Imaging Engine IV and a new high-speed image processing CMOS sensor installed, the CX1 achieves greater image quality while at the same time expanding dynamic range with its dynamic range double shot mode.
In addition, functions such as multi-pattern auto white balance (sets white balance based on the light sources of segregated areas of the image) and multi-target AF (shoots consecutive images at seven focal distances automatically defined by the camera) enable the new CX1 to create beautiful images giving an almost naked-eye impression.
The CX1 has a large 3.0-inch 920,000-dot VGA monitor and high-speed continuous shooting functions at approximately 4 frames/second that make it even easier to enjoy photography. This is a digital camera that takes the design concept "A tool you will want to use every day" to a new level of perfection.