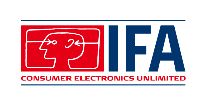 Pre-registration for IFA 2020 Special Edition now online
Trade visitors, dealers and distributors can now register for the various event areas of the IFA 2020 Special Edition, which will take place in Berlin from September 3 – 5, 2020. Focusing on the B2B core functions IFA, the event is set to bring brands, manufacturers, dealers and innovators and bring media together. Due to the applicable safety regulations and distance rules, the number of participants for the different areas will be limited.
From now on, trade visitors and dealers can secure the opportunity to be part of this special edition of IFA by pre-registering at https://b2b.ifa-berlin.com/de/Fachbesucher/Ticketing/. Registration is mandatory, on-site registration will not be possible.