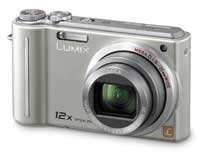 The Lumix ZS3 features 10.1-megapixels, a 25mm ultra-wide-angle lens and 12x optical zoom, meaning it has added 2x optical zoom to the TZ-Series camera, yet reduced its size. The ZS3 also features a LeicA DC Vario-Elmar lens and High Definition (HD) video recording ability, known as AVCHD Lite.
The ZS3 features HD video recording in "AVCHD Lite". Compared with the conventional Motion JPEG format, AVCHD Lite allows longer recordings with breathtaking HD visual and audio quality. This combined with a well-considered control interface, which includes a dedicated movie recording button on the camera's back panel, makes the ZS3 a hybrid model that performs admirably for both still and motion image capture.
The ZS3 also expands Panasonic's popular Intelligent Auto (iA) mode with the addition of Face Recognition – a feature that "remembers" faces from previous shots. When a registered face appears in the frame, the camera will prioritize focus and exposure to capture it beautifully. With Face Recognition, when a familiar face is recorded several times, the camera will prompt the users to register the face. Once registered, if the face appears into the frame again, the camera will display the name specified for that person and prioritize focus and exposure so that the registered face is bright and sharply focused.
New this year to the ZS-Series, iA mode is also available in Movie Mode. It automatically selects the most suitable Scene mode and helps to correct handshake, focus and brightness problems – making iA mode your one-stop solution to capture beautiful still and motion images. In Movie Mode, the ZS3, Optical Image Stabilization (O.I.S.) helps prevent handshake when using the high-powered zoom. Face Detection automatically detects a face in the frame and adjusts focus, exposure, contrast, and skin complexion so it turns out perfectly. Intelligent Exposure continually checks the ambient light level and adjusts the exposure setting as conditions change to prevent blown highlights and blocked shadows. And Intelligent Scene Selector automatically switches between Normal, Portrait, Macro, Scenery, and Low Light modes according to the situation to optimize visual quality.
The imaging power of Lumix has further evolved with the Venus Engine HD, which boasts two CPUs to provide approx. 2.4x processing capability and support for AVCHD Lite and HDMI output. It integrates all the advanced functions and camera operations with high performance and low-power consumption. In image processing, luminance noise and chromatic noise are reduced separately before and after signal processing. This is further refined by separating noise two-dimensionally into high-frequency and low-frequency noise. The circuits then effectively reduce only the low-frequency noise to minimize the unwanted noise and help produce beautiful, sharp still and motion images.
Playback with the ZS-Series is also easy. Simply insert the camera's SD Memory Card into the Viera HDTV's Image Viewer SD Card slot for a photo slideshow. Alternatively, connect the camera via an optional HDMI mini cable, the DMW-HDC2, to a Viera Link-equipped Panasonic Viera HDTV and use the television's remote control to run mixed slideshows of photos and videos. The ZS3 features a 3-inch, high resolution 460,000-dot Intelligent LCD with a wide viewing angle, improving visibility during recording and playback.
The ZS1, like the ZS3, features a 25mm ultra-wide angle, 12x powerful optical zoom. Distinguishing it, the ZS1 features a 10.1 megapixel CCD, a standard iA mode (no Face Recognition) for still image recording and a 2.7-inch, 230,000-dot Intelligent LCD.
The DMC-ZS3 will be available in silver, black, blue and red for a suggested retail price (SRP) of $399.95, while the DMC-ZS1 will be available in black and silver for an SRP of $299.95. Both models will be available in April 2009.