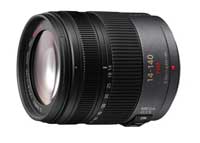 The new Lumix G Vario HD 14-140mm/F4.0-5.8 ASPH./MEGA O.I.S., available as part of the kit with the DMC-GH1, or separately, incorporates an inner focus direct-drive linear motor for focusing. This allows fast and accurate contrast auto focus (AF) to operate smoothly and silently – a necessity for video recording. Adopting the Micro Four Thirds System standard, the new Lumix G Vario HD 14-140mm/F4.0-5.8 ASPH./MEGA O.I.S. offers a long zoom of 14-140mm (35mm camera equivalent: 28-280mm), suitable for a wide range of shooting situations – from scenery to portraits to telephoto shots – all possible with a compact and lightweight lens.
The Lumix G Vario HD 14-140mm/F4.0-5.8 ASPH./MEGA O.I.S. uses four aspherical lenses and two ED lenses to achieves dramatic downsizing – despite its powerful 10x optical zoom – and still minimizes distortion and chromatic aberration. Panasonic's Mega O.I.S. (Optical Image Stabilization) is incorporated in the lens, making it easy to shoot clear shots even in telephoto shooting or in low-light situations – as this feature minimizes blur caused by hand shake.
Panasonic's other new lens, the ultra-wide-angle zoom interchangeable lens Lumix G Vario 7-14mm/F4.0 ASPH features an astonishingly wide-angle zoom range of 7-14mm (35mm camera equivalent; 14-28mm). Its compact and lightweight size makes it easy for users to carry while they are on the go. Taking advantage of its 114-degree wide-angle view, users can fit more subjects in a frame – even when the shooting distance is limited, for example, while shooting indoors. This expansive view gives users great flexibility and a rich perspective when shooting photos or video.
The high-performing, yet lightweight Lumix G Vario 7-14mm/F4.0 ASPH. achieves its compact size by incorporating two aspherical lenses and four ED lenses in a unit of 16 elements in 12 groups. The resolution of the images is high, even at its wide-end and features F4.0 brightness through its entire zoom range thanks to a large diameter glass-molded lens embedded within the body.