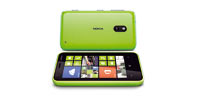 The Nokia Lumia 620 uses a new dual-shot color technique to deliver a variety of striking color and texture effects. Dual-shot adds a second layer of colored, transparent or translucent polycarbonate on top of a base layer to produce secondary color blends and depth effects. With seven different exchangeable shells to choose from, people can adapt the look of their Nokia Lumia 620 to their own personal taste and style.
Among the features shared with the Nokia Lumia 920 and Nokia Lumia 820 are exclusive camera lenses that transform the creative power of the Nokia Lumia 620's five megapixel main camera and VGA front-facing camera. The Cinemagraph lens adds simple animations to still photographs, while Smart Shoot creates a single, perfect shot from multiple images, even removing unwanted objects from the picture.
The Nokia Lumia 620 also provides access to Nokia's leading maps and location services, including Nokia Maps, Nokia Drive, Nokia Transport and the exclusive Nokia City Lens. Nokia City Lens displays information about local surroundings overlaid onto buildings as seen through the camera viewfinder.
Making it easy to discover and enjoy new music, Nokia Music provides free streaming of ad-free tracks without registration or subscription and the ability to download playlists for listening offline.
With NFC support, the Nokia Lumia 620 can easily pair with NFC-enabled accessories like the JBL PlayUp Portable Speaker for Nokia. Open and secure NFC-connectivity makes it possible to share and receive content by tapping with compatible devices, or make secure payments using the Wallet application in Windows Phone 8.
Powered by Windows Phone 8, the Nokia Lumia 620 features adjustable Live Tiles update direct to the Start Screen. People Hub pulls together contact information from multiple address books and social networks into a single location, making it easy to stay in touch with friends and set up contact Groups and private Rooms for sharing. From the Me Tile, people can check in to their location, post an update, set chat status, see what's new and monitor notifications across Facebook, LinkedIn and Twitter. Windows Phone 8 also includes Xbox Live, Microsoft Office, 7GB of online SkyDrive storage and faster, safer surfing with Internet Explorer 10.
These features and capabilities are enabled by Qualcomm's Snapdragon(TM) S4 Plus processors.
The Nokia Lumia 620 will be available in a range of colors (availability of colored shells may vary by country) including, lime green, orange, magenta, yellow, cyan, white and black. Estimated at USD 249, excluding taxes and subsidies, the Nokia Lumia 620 will begin selling in January 2013 in Asia, followed closely by Europe and the Middle East before expanding further.