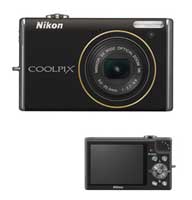 The Coolpix S640 also features a custom-optimized auto white balance system based on D-SLR technologies, producing beautiful pictures that benefit from more natural color adjustments.
Optical lens shift VR images stabilization combines with high sensitivity to achieve sharper and cleaner photos in a wider variety of unsteady or low-light situations. The Coolpix S640 can shoot at any image size up to its maximum of 4000 x 3000 pixels with light sensitivity settings of as high as ISO 6400. And Fixed range auto allows you to limit sensitivity from ISO 100 to 400 or 800 for effective control over image quality.
With 12.0 effective megapixels of sharp resolution and a flat body that fits right in your pocket, the Coolpix S570 offers carefree and flexible shooting.
The Coolpix S570 is equipped with Nikon's Smart Portrait System, a series of advanced functions that help produce consistently great portraits. The new Skin Softening function automatically detects and analyzes the subject's skin and then adjusts smoothness for enhanced results. Face-priority AF automatically detects as many as 12 faces in the shot and helps produce satisfying portraits by adjusting focus and exposure. Smile Timer automatically releases the shutter when the priority subject smiles while the Blink Proof function automatically shoots two sequential frames and saves the one in which the subject's eyes are wide open. In-Camera Red-Eye Fix automatically corrects any perceived red-eye effect before saving the image to memory.
The Coolpix S570's high sensitivity of up to ISO 3200 at any image size up to its maximum of 4000 x 3000 pixels enables flexibility when shooting in low light or when capturing fast-moving subjects. This creates new opportunities to take sharper, more natural-looking photos the moment they occur.
The Coolpix S640 is equipped with Nikon's new Clear Color Display technology, greatly reducing reflection and improving visibility, even outdoors in the sun. Complementing its attractive aluminum finish, the Coolpix S640 will be available in a choice of Champagne Silver, Calm Black, Pearl White, Precious Pink or Velour Red body colors. (Color name and color availability may vary according to region.)