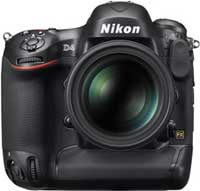 Every aspect of the new Nikon D4 D-SLR has been designed to emphasize rapid response and seamless operation to help professional photographers consistently capture incredible content. Nikon's proven 51-point AF System has been further enhanced for maximum speed in a variety of challenging shooting situations, even at 10 frames per second (fps). Considered the new Nikon flagship, the D4 renders supreme image quality, a feat accomplished with a new 16.2-megapixel FX-format CMOS sensor, coupled with the latest generation of Nikon's EXPEED 3 image processing engine to help produce images and videos with stunning clarity and color. Photographers are also able to shoot in even the most challenging environments and lighting conditions with the assistance of Nikon's new 91,000-pixel 3D color matrix meter and a broad ISO range from 100 to a staggering 204,800 for low-light capture like never before. The Nikon D4 is engineered for the modern professional and incorporates never before seen HD-SLR video features for those who also need to capture multimedia content from the field.
Speed is a necessity for today's multimedia photographer as milliseconds matter when the action commences. Whether an assignment relies on fast processing power, burst rate, write speed, enhanced workflow or even streamlined camera controls, the D4 is the epitome of professional-caliber photographic horsepower. Ready to shoot in approximately 0.012 seconds, the new Nikon D4 can capture full resolution JPEG or RAW files at up to 10 fps with full AF / AE or up to 11 fps with AF / AE locked. Immediately before image capture, the camera interprets data from the AF sensor, including subject color as detected on the 91,000-pixel RGB sensor, to deliver consistently tack-sharp focus frame after frame. Whether a photographer is shooting a full-court fast break under gymnasium lighting or the downhill slalom in the bright sun and frigid temperatures, the D4 will instill the confidence with consistently great results.
The Advanced Multi-Cam 3500 AF autofocus system is the next generation of Nikon's proven 51-point AF system. The fully customizable system offers users the ability to capture fast moving subjects and track focus with precision or select a single AF point with pinpoint accuracy. The Nikon D4 D-SLR aligns 15 cross-type sensors in the center to detect contrast data in both vertical and horizontal planes. In addition to detecting each AF-NIKKOR lens with an aperture of f/5.6 or lower, the camera also utilizes nine cross-type sensors that are fully functional when using compatible NIKKOR lenses and TC14E or TC17E teleconverters or a single cross-type sensor when using compatible NIKKOR lenses and the TC20E teleconverter with an aperture value up to f/8, which is a great advantage to those shooting sports and wildlife. For maximum versatility in situations such as photographing nature from afar or competition from the sidelines, photographers are also able to select multiple AF modes, including normal, wide area, face tracking and subject tracking, to best suit the scene.
The Nikon D4 D-SLR also employs a new 91,000-pixel RGB 3D Color Matrix metering system that meticulously analyzes each scene and recognizes factors such as color and brightness with unprecedented precision. This data is then interpreted and compared against D4's on-board database to implement various settings, resulting in vibrant images with faithful color reproduction and balanced exposure. In addition, this new AF sensor now has the ability to detect up to 16 human faces with startling accuracy, even when shooting through the optical viewfinder, allowing for correct exposure even when the subject is backlit. Additionally, to capture every brief moment from a bouquet toss to a photo finish under nearly any condition, the 51 focus points deliver fast and accurate detection down to a -2 EV with every AF-NIKKOR lens.
All of this image data is funneled through a 16 bit pipeline and are written to dual card slots which have been optimized for the latest UDMA-7 Compact Flash cards, as well as the new XQD memory card. The D4 is the first professional camera to harness the capabilities of this new durable and compact format, which offers blazing fast write times and extended capacity essential for multimedia professionals shooting stills and video.
The heart of the new D4 is the Nikon-developed 16.2-megapixel FX-format (35.9 x 24mm) CMOS sensor that provides amazing image quality, brilliant dynamic range and vivid colors in nearly any lighting condition. By achieving the optimal balance of resolution and sensor size, professional photographers will realize exceptionally sharp, clean and well saturated images throughout the entire ISO range.
Like the D3 and D3s before it, the Nikon D4 retains Nikon's status as the sovereign of low-light capture ability, with a native ISO range from 100 to 12,800 ISO, expandable from 50 (Lo-1) to an incredible yet usable 204,800 (Hi-4). From a candlelit first dance to nocturnal wildlife, the large 7.3µ pixel size absorbs the maximum amount of light to excel in any situation. Additionally, the sensor's construction features a gapless micro-lens structure and anti-reflective coating which further contributes to images that retain natural depth and tones with smooth color gradation. For ultimate versatility, photographers can also take advantage of the camera's extreme high ISO ability while recording video.
Another factor contributing to the camera's rapid performance and stellar image quality is Nikon's new EXPEED 3 image processing engine that helps professionals create images with amazing resolution, color and dynamic range in both still images and video. From image processing to transfer, the new engine is capable of processing massive amounts of data, exacting optimal color, perfect tonality and minimized noise throughout the frame.
There are also a variety of shooting options available to help capture the highest quality images and video. In addition to standard NEF (RAW) files, the D4 is also capable of shooting smaller compressed RAW files to ease storage and speed up workflow. Users are also able to capture even more dynamic range with the in-camera High Dynamic Range (HDR) function that merges consecutive exposures. For deep contrast and further tonality, Active D-Lighting can also be activated during shooting for balanced exposures even in backlit scenes. Additionally, the camera features a dedicated button for quick access to Nikon's Picture Controls, allowing users to quickly select one of six presets.