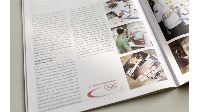 According to the manufacturer, Jet-Line sense is an uncoated, surface-treated paper that can be printed on both sides. Its high whiteness makes for a wide colour gamut, enabling rich colours and deep blacks to be printed. The paper also deposits less dirt on the rollers so that subsequent print runs remain clean, extending the intervals between cleaning. Furthermore, the ink dries fast so that the paper can be handled soon after printing is completed, resulting in a significantly higher output per time unit.
"With its pleasant feel and four-colour printing, this paper opens up whole new areas of business for our customers, especially in educational resources or other kinds of publications that combine text and colour images," says Thomas Leifert who, along with Jörg Borker, is general manager of the Felix Schoeller Group's Digital Media Business Unit.
Jet-Line sense is available in grammages of 80 and 90 g/sqm and broadens Felix Schoeller Digital Media's portfolio of products for highspeed-inkjet printing. It is suitable for all common highspeed-inkjet printers and has already been certified for a number of printing systems such as Océ's ColorStream 3000er series and Screen Truepress machines. Other papers produced by Schoeller for highspeedinkjet printing include Jet-Line base, a cost-effective alternative with a good line sharpness, and Jet-Speed master, for high-caliber prints with pin-sharp details.