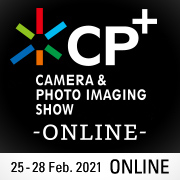 The Camera & Imaging Products Association (CIPA) will hold its trade show CP+2021 Online, from Thursday, February 25 to Sunday, February 28, 2021. The archives will be available for the public until Wednesday, March 31.  According to a press release, the digital event will be designed as a comprehensive virtual camera and imaging exhibition, featuring a large number of organizer and exhibitor presentations as well as seminars and workshops.
The organizer events include the live streaming of a keynote speech by CIPA President Masaya Maeda, former President and COO of Canon Corp., on "The past, present and future of Sports Photography", a panel discussion by top engineers on the topic "What mirrorless brought to the Industry", and a digital camera market seminar by the CIPA, along with the exhibition of the works of the Zooms Japan 2021 photo award winners. CP+2021 Online has newly entered into a collaboration with Camera Grand Prix, an awards event organized by the Camera Journal Press Club. CP+ 2021 Online visitors will be able to vote for a Readers Award, picked by general users.
Pre-registration for CP+2021 Online begins on Wednesday, January 20, at 1 p.m., via the CP+ official website.
By January 19, 20 exhibitors signed up to CP+2021:
Atomos
Canon Inc./Canon Marketing Japan Inc.
Epson Sales Japan Corp.
Fujifilm Corporation
KamLan
Kenko Tokina Co., Ltd./Slik Corporation/Kenko Professional Imaging Co., Ltd.MouseComputer CO.,LTD.
Nextorage Corporation
Nikon Corporation/Nikon Imaging Japan, Inc. /Nikon Vision Co. Ltd
OM Digital Solutions Corporation Panasonic Corporation
Ricoh Imaging Compnay, Ltd. SIGHTRON JAPAN / LAOWA SIGMA CORPORATION
Silence Corner, Inc./Corner Design Co., Ltd.
Sony Imaging Products & Solutions Inc./ Sony Marketing (Japan) Inc.
Tamron Co., Ltd.
Thirdwave Co.
TourBoxTech Inc.
Zoner L.L.C.