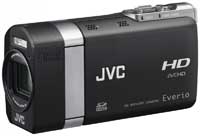 The camera is small enough to slip into a shirt pocket and at just 0.66 pounds is one of the lightest cameras that can shoot 1920 x 1080 Full HD AVCHD video. It shoots nine-megapixel (no interpolation) digital stills and Full HD video with 1000 TV lines of horizontal resolution – close to the theoretical maximum horizontal resolution for 1920 x 1080 high definition video for no-compromise images.
The new Everio X was designed for the consumer who wants to shoot high quality digital stills and HD video, but wants the convenience of a single camera. While most conventional video camcorders shoot digital stills and most digital still cameras shoot video, the secondary capabilities of these cameras don't offer sufficient quality for many users. Everio X solves that dilemma by providing high quality stills and top quality HD video.
10.3-megapixel CMOS sensor is at the heart of the camera's superior image quality. The high quality nine-megapixel digital still photos the camera shoots correlate directly to the un-interpolated performance of this 1/2.33-inch CMOS sensor. For the first time ever, it is also the source of 1920 x 1080/60i Full HD AVCHD format video. The camera records at a stunning 1000 TV lines of horizontal resolution – close to the theoretical maximum of 1920 x 1080 Full HD.
JVC's new proprietary optical image stabilization (OIS) technology applies camera shake compensation optically at the Everio X lens entrance to ensure effectiveness throughout the zoom range and allow high quality shooting without a tripod. Everio X also uses a new Konica Minolta HD lens with a 5X optical zoom.
The Everio GZ-X900 will be available in June at a nationally advertised value of $999.95.