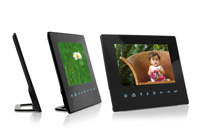 Jobo Nano 7 digital picture frame will be available in three different versions – Basic, Pro and Media. The new Nano 7 is less than 1 cm thick and features a 7" high resolution TFTColor- LCD display designed to beautifully showcase digital images and many user-friendly functions. This ultra-slim frame can be conveniently operated with its versatile remote control.
The new Jobo Nano 7 Basic features a 480 x 234 pixel resolution. The Nano 7 Pro and Nano 7 Media versions provide an 800 x 480 pixel resolution. Each frame version features an aspect ratio of 16:10. To view images on the display, users simply insert their camera's media card into the frame. This model offers Dual-Mini-USB 2.0 high speed capability for connecting a card reader or USB jump drive and supports SD and MMC memory cards. Each Jobo Nano 7 series frame is supplied with its own stand for easy display in the home or office. Also included with all versions of this digital picture frame is a remote control unit for convenient operation from any location in a room.
These Jobo Nano frames support full screen image viewing, thumbnail mode and slideshow mode with various transition effects. The Nano 7 Media also offers user-friendly functions such as rotate and zoom, slideshow mode with music, calendar, time and alarm functions, and power-saving function. All include an AC power adapter.