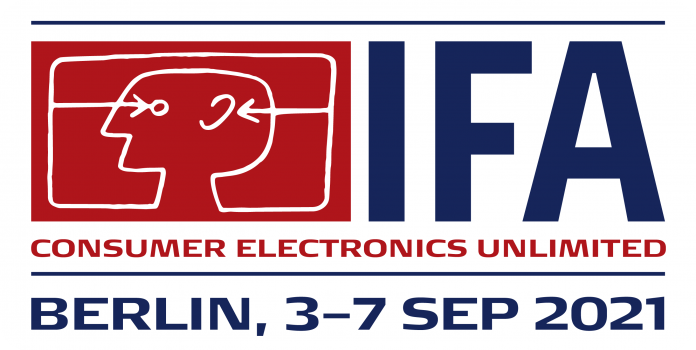 IFA Berlin, the world's leading trade show for consumer and home electronics, is preparing to return to the exhibition halls of the Berlin exhibition center together with partners from industry, trade and the media, Messe Berlin announced this in a press release. With the successful progress of the international vaccination campaigns, the industry is becoming more confident that it will be able to present its new products and services to the media and retailers at IFA 2021 from September 3 to 7, 2021, the organizers said. To ensure health and safety of all attendees, comprehensive hygiene measures will be in place.
Last year, the IFA 2020 Special Edition showed the high relevance of personal networking and physical on-site meetings for exhibitors and visitors, emphasized Messe Berlin. This year, IFA 2021 is intended to offer the consumer and home electronics industry an excellent opportunity to present themselves to the public.
"IFA Berlin is the world's most inspiring tech event, and completely unique in its depth and breadth of showcasing the global technology industry – from start-ups to the biggest consumer electronics brands in the world", said Martin Ecknig, CEO of Messe Berlin. "The message we hear from our industry is loud and clear: 'Tech is Back in Berlin' and ready to meet with retailers, media and consumers – safely, but in real life."
"It's been a tough year for everybody, but our industry has innovated and worked really hard to help people cope and be resilient – to make it possible to stay connected with friends and families, to work from home, to stay healthy and even entertain ourselves at a time of lockdowns and other restrictions", added Kai Hillebrandt, Chairman of the Supervisory Board of gfu Consumer & Home Electronics GmbH. "In September 2021, we will be ready to present our innovations for the expected post-Corona period."
The hygiene concept for IFA 2021 is planned in close coordination with the responsible authorities in Germany; it will be continuously updated and adapted to the then applicable regulations and conditions.
"The global vaccination effort is gaining huge momentum, while tough lockdowns are finally beginning to pay off – which gives us confidence that we can invite the world to come to Berlin in September for IFA 2021", said Jens Heithecker, IFA Executive Director and Executive Vice President of Messe Berlin. ""Of course, with all our precautions to ensure everybody's good health, we don't expect IFA Berlin 2021 to set new records. However, the trend is clear: IFA Berlin is set for a full-scale comeback, to lead our industry once more."
This year, IFA Berlin is expanding its event portfolio with two new partnerships:
Tech Up for Women – an innovative conference designed by women for women in order to learn from and with top female executives, researchers and experts and to establish global networks.
Berlin Photo Week – a creative reinforcement of the IFA's product portfolio on the subject of imaging on the exhibition grounds in parallel with Berlin Photo Week events throughout the city.
IFA 2021 is to spread across the full space if the Berlin exhibition grounds and will include the popular program points of the previous years. This includes
Keynotes from global market leaders, the IFA Next as an event for IT market leaders, innovators, start-ups, researchers, developers and entrepreneurs, the Shift Mobility Convention on the future of urban mobility and the IFA + Summit, where the megatrends of future digital technologies will be presented.
The last regular IFA 2019 had 238,700 participants, 1,930 industrial partners and 5,360 journalists from more than 130 countries and regions.
Last year's IFA 2020 Special Edition, a very limited, three-day physical event that was expanded by a virtual component, was followed by 145,900 visitors on site and online, 1,570 participating exhibitors and 10,750 media representatives. The hybrid event attracted visitors from 100 countries and regions.