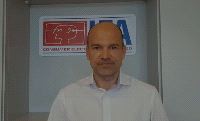 IFA 2020 set to be a "physical event"
Just a few days after the announcement that IFA 2020 could not take place in the usual way due to the restrictions caused by the corona crisis, Messe Berlin has, through social media channels, given the first indications of the planned, alternative concept. In a video, IFA Director Dirk Koslowski said that it would still take a few days before details could be published. However, IFA 2020 will be set as a "physical event", he added.
"We want to bring together media, industry and trading partners from all over the world in Berlin so that they can experience new products and launch new technologies," announced Koslowski. For those who will not be able to make it to Berlin due to international travel restrictions, IFA 2020 would also be accessible digitally, Koslowski said.