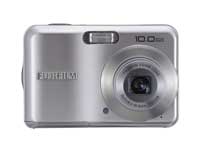 Following its advanced, entry-level predecessors, the A150 features a 3.0x optical zoom lens, with 230,000 dots resolution, that was developed specifically for the A-series by Fujinon. The A150 also offers Picture Stabilization that chooses the correct light sensitivity and compatible shutter speed, producing the highest quality digital pictures without blur and noise.
The A150 also utilizes Fujifilm's acclaimed Face Detection Technology that identifies and prioritizes up to 6 faces in a framed scene and then adjusts the focus and exposure accordingly to ensure the sharpness and clarity of human subjects in the picture, regardless of background. After the shot is captured, the A150 instantly checks each detected face for red eye, and if found, corrects it automatically in the camera, avoiding the process of editing later.
The A150 will debut in February 2009 with a retail price of $129.95.