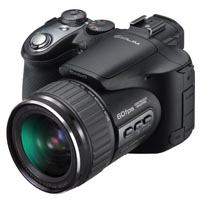 The Exilim Pro EX-F1 is equipped with a new, particularly fast-reacting CMOS sensor with a resolution of six megapixels, which is supported by the equally fast LSI image processing processor. The intricately designed 12x zoom lens offers a focal length range of 36 – 420 mm (35 mm equivalent) at a speed of f/2.7-4.6 and a filter thread with a 62 mm diameter. Unlike the prototype, the production model has a hotshoe for external flash units. The built-in xenon flash fires up to 20 times in succession at a speed of up to 7 frames per second. In addition, there is a white light LED to illuminate continuous shots at speeds of 10 – 60 fps.
To protect against camera shake, the Exilim Pro EX-F1 is fitted with a CCD shift image stabilizer. For added stabilization during a picture sequence with long exposure times, the processor also analyzes the intensity of movement, then compares the images and corrects the position of the subject accordingly to eliminate any effects of shake throughout the sequence.
A further feature of the new Formula 1 Exilim is the new Super Clear LCD, which allows an angle of view of 175°, vertically and horizontally, and also displays the colors very vividly and with a wealth of detail. In addition to its contrast ratio of approximately 1,000:1 and a variable brightness of up to 1,000 cd/sq.m., it has a hard, scratchproof surface that can withstand a considerable amount of rough treatment.
The new Exilim Pro EX-F1 is not only an ultra-fast digital camera cthat can capture sequneces of up to 60 shots with a maximum speed of 60 frames per second, it is also a Full HD camcorder – in fact the first in the world to boast a 12x zoom lens. The full HD movies (1,920 x 1,080 pixels) are captured at a speed of 60 half-frames per second. The camera can also be used to capture movies in VGA resolution or HD mode at 1,280 x 720 pixels. Alongside an AV output, it sports a HDMI interface for easy transfer to suitably equipped TV sets.
he new Exilim Pro EX-F1 is not only the fastest digital camera in the world, it also offers a convenient user operating concept that allows the photographer to make full use of the advantages of the high speed to capture the right moment. In the PreShot Burst mode, images are already captured before the trigger is pressed, and the last images prior to pressing the release button are saved when the shot is taken to ensure that the right moment is not missed. At a burst speed of 5 fps, the pre-recording time is 12 seconds, at 10 fps, six seconds, and at 60 fps, one second. In Burst Speed mode, the desired maximum frequency can be preselected in steps of 1 – 7 fps, 10 fps, 12 fps, 15 fps, 20 fps, 30 fps and 60 fps, and the shooting speed then controlled with the aid of a function ring on the lens in such a way that the maximum speed is not used until it is actually needed.
In high-speed video mode, the Exilim Pro EX-F1 can take up to 300 frames per second at a resolution of 512 x 384 pixels. At lower resolution, speeds of 600 or 1,200 fps are even possible for ultra-slow motion.
The Exilim Pro EX-F1 is due to hit the market at the beginning of April. The price has not yet been fixed.