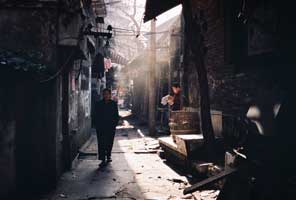 The image by Colin Jones from the USA particularly fascinated the jury and myself," jury member Uwe Ommer commented the decision.
"The picture captures the topic of the competition in a melancholic way. The dingy light situation underlines the atmosphere and draws the viewer into the streets of China."
The second prize was won Thomas Jake from California in the USA. Thomas Birke from Germany won the third prize. The Jury was very pleased with the numerous images entered into the contest and the creativity used to translate the theme "pulse of the city".
The topic of the Carl Zeiss photo competition this year was "the pulse of the city". Everyone could take part in the contest – professional photographers as well as passionate amateur photographers. The only requirement was to take the image with a Carl Zeiss lens. The ten best images were given a prize such as a Carl Zeiss lens of choice, a Nokia N96 with Zeiss optics as well as the video goggles "Cinemizer" also by Carl Zeiss.