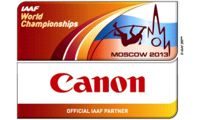 The IAAF World Championships Moscow 2013, which begins on August 10, is a global competition that will bring together more than 2,500 athletes from some 200 countries and regions. Canon, in addition to displaying the company's logo on signage within the venue and on outdoor advertisements throughout Moscow, will support the Championships through its products, technology and service by carrying out a range of activities, including those listed below.
According to a press release, at numerous sporting competitions both in Japan and overseas, Canon has provided behind-the-scenes support to members of the press covering these events, including technical support, advice and repair services as well as loans of the latest Canon EOS system camera and lens equipment. To further improve media support at the IAAF World Championships Moscow 2013, expert staff at the on-site Canon Professional Service centre will assist the journalists and sports photographers from various countries and regions across the world. Additionally, all accredited photographers covering the event will wear bibs displaying the Canon logo.
Canon will incorporate within the company's homepage a dedicated IAAF World Championships Moscow 2013 website providing information related to the Canon Professional Service centre. Additionally, the site will include a link to the Canon Photo of the Day, which, featured on the IAAF and Local Organizing Committee official websites during the competition, will present one image per day that has been carefully selected from among the many captured daily during the event. Visitors will be able to enjoy breathtaking images of the athletes in action, captured by top sports photographers who are supported by the outstanding imaging performance of Canon cameras and lenses.