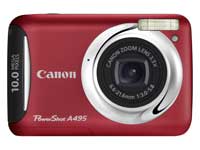 Available in silver (both models), red and blue (PowerShot A495 only), both new models offer a 10.0 Megapixel sensor and genuine Canon 3.3x optical zoom lens, producing large, detailed images. Smart Auto mode takes care of picture settings automatically, and a bright, vivid 6.2cm (2.5") LCD display makes it simple to frame, capture and share images.
Face Detection Technology makes it easy to get perfect group shots, recognising multiple faces and making sure everyone is well-exposed, natural and in focus. Red-eye Correction also detects and removes any red-eye in images after the shot has been taken, making friends and family look great at all times. A clever FaceSelf-Timer feature, available on the PowerShot A495, simplifies group shots by waiting until an additional face enters the frame before the shot is taken two seconds later – ensuring everyone can be part of the picture.
Higher performance in dark situations is now achieved thanks to a new Low Light mode, which automatically sets the ISO at a reduced resolution to capture images in dark conditions. Motion Detection Technology also works to prevent blur when capturing moving subjects, allowing the most inexperienced user to get great, blur free images with ease.
The PowerShot A495 features two new, simple scene modes that give users the ability to instantly add further creativity to their shots. Poster Effect reduces the number of colours for an older, poster-style look from photos without the need for a computer. Super Vivid mode injects new life into subjects lacking vibrancy – adding a higher level of saturation to images to provide a dramatic, enriched effect.
In addition to high-quality images, both the PowerShot A495 and the PowerShot A490 are able to capture video at VGA resolution with sound. Both also feature a YouTube™ upload function in the supplied software package – providing the capacity to log-in and upload directly from the camera to the Internet via a computer. This enables video to be shared online for friends to see within minutes of being captured.
Each of the new PowerShots are compatible with SDHC and SDXC memory cards – with SDXC offering storage capacity of up to 2TB, allowing users to shoot thousands of images on a single card. Both models are powered by AA batteries, providing users with flexibility to keep plenty of power in reserve.
Owners of the new PowerShot A495 and PowerShot A490 are entitled to free membership of Canon image Gateway, an online facility for sharing photos and video. Users can take advantage of up to 2GB of personal storage capacity, creating enough room for hundreds of high-quality images. Mobile browsing is also supported, making it easy for friends and family to view photos on the move.