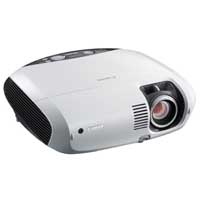 The new Canon LV-8300 Multimedia Projector provides a native WXGA-resolution and aspect ratio of 16:10 which allows it to support data and imagery from widescreen notebooks and desktop computers. As a result of the projector's native widescreen format, this model supports popular WXGA-resolution computers in their native format, avoiding the need for compression and/or unsightly distortion.
The new projectors sophisticated ergonomic design includes a convenient built-in carry handle, allowing these 7.3 lb lightweight units to be transported from location to location easily. The Quick Startup and Shutdown functions allow for timely set-up and breakdown, while the simplified control panel buttons, remote control and easy tab-style on-screen menus (which are available in 21 languages) make operating these projectors a cinch. The Auto-Keystone Correction feature also plays an important role as built-in sensors automatically detect any tilt in the projector, in relation to the screen, and quickly correct any vertical image distortion.
An important feature for installed applications is the built-in RJ-45 port for Network Connectivity. This feature, most popular among colleges/universities and those managing larger AV systems, allows users to connect their projectors to an existing network to conveniently control them from a remote location. Maintenance has also been made simpler with an easy-to-open top panel cover to gain access to the lamp fixture, making it easier to change on installed units. Additionally, the re-styled lens cover prevents dust from entering the gaps of the zoom lever/focus ring for better performance.
Canon has designed these projectors to be more energy conscious with the power management function automatically turning the projector off after a designated period of non-operation. In addition, the OFF Timer function can be set to automatically turn-off after a specific time and the Computer Synchronization feature allows the projector to automatically turn-on when a PC or notebook is connected.
Other features available on all three projectors include closed captioning and a high-output 7-watt speaker. Both features are geared towards further enhancing presentations and the viewing experience, particularly in larger classrooms/meeting rooms. For those users in need of more advanced functionality, the color management feature allows for the manual fine-tuning of colors and black tones.
The new Canon LV-8300 Multimedia Projector is scheduled to be available in mid-March at a manufacturer's suggested list price of $1,399 . The new Canon LV-7375 and LV-7370 Multimedia Projectors are scheduled to be available in mid-March at a manufacturer's suggested list price of $1,799 and $1,299 , respectively. All three projectors are backed by Canon U.S.A.'s Three-Year Limited Warranty and Projector Protection Program ("Triple P).