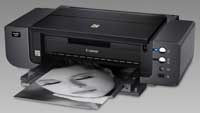 The PIXMA Pro9000 Mark II provides photographers with an extensive choice of print media options. Canon's own range of media includes Gloss, Semi-gloss and Matte Photo Papers, plus Fine Art medias. Users can also load the PIXMA Pro9000 Mark II with a variety of specialist, third-party medias – such as Baryta types, canvas, and numerous other Fine Art medias – from leading manufacturers including Canson, Hahnemühle, Innova, PCM Takeo and Pictorico. A flat paper path ensures that medias up to 1.2mm thick remain pristine and crease-free.
Included with the PIXMA Pro9000 Mark II is Canon's Easy-PhotoPrint Pro software – a plug-in for Adobe Photoshop, Canon Digital Photo Professional and the bundled Adobe Photoshop Elements 6. Easy-PhotoPrint Pro allows photographers to batch print different images from Photoshop or Digital Photo Professional, simplifying the procedure by giving access to all the required print settings on one screen. When used with Canon's Digital Photo Professional software, the plug-in enables Canon EOS photographers to print directly from RAW files without having to convert images to any intermediate formats. Users of other D-SLR cameras can use Adobe Photoshop Elements to enable RAW file conversion and printing.
Finding the correct print media is crucial in turning an image into a saleable product. To maximise potential profit, the PIXMA Pro9500 Mark II prints to a comprehensive range of Canon and non-Canon medias. Stunning, high-quality prints can be printed onto Canon high gloss medias without bronzing or gloss differential; other supported Canon media includes Semi-gloss, Matte Photo Paper and Fine Art medias.
The PIXMA Pro9500 Mark II supports ICC profiles for many specialist medias. These include Baryta types, canvas, and numerous Fine Art medias from leading brands such as Canson, Hahnemühle, Innova, Moab, Somerset, Crane, PCM and Pictorico. For additional flexibility you can create custom ICC profiles, using Canon's Colour Management Tool Pro 2 software with selected X-Rite colour spectrophotometers.
The addition of 16 bits per channel print capability – with 276 trillion possible colours – offers outstandingly smooth tonal gradations in both colour and monochrome prints. Dedicated monochrome inks minimise problems such as colour casting, and allow photographers to reproduce a smoother range of neutral and grayscale tones.
New for the both printers is an Ambient Light Correction feature using Canon Kyuanos technology . Users can select the type of lighting under which a print will be displayed; the colours in the final print are then automatically adjusted to ensure that the displayed result looks just the way the photographer intended.