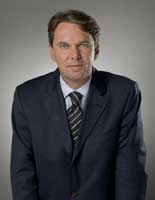 Fuehres has a wealth of experience in Consumer Imaging and over sixteen years experience at Canon. He was directly involved in the development and implementation of pan-European sales operations as European Sales Director of Canon Consumer Imaging since the creation of the CCI business unit in Europe. His extensive experience will contribute greatly to the future direction and growth of the Consumer Imaging business across the Europe, Middle East and Africa (EMEA) region.
Rainer Fuehres said, "This is an excellent opportunity to lead Canon's much admired Consumer Imaging business to even greater heights. Part of our challenge will be to continue our industry leading position across the EMEA region amid today's uncertain economic climate, but I am enthusiastic about this challenge. At Canon we are passionate about the power of image, and I am committed to ensuring that Canon continues to deliver the best imaging solutions for our customers to help them unlock their own creative potential."
Shuichi Shionoya will replace Rainer Fuehres as Head of Emerging Markets business unit, Canon Europe. His previous role as the European Product Management Director, Office Personal Products group saw him successfully manage Printer Products for many years. Shuichi's significant experience spanning 28 years at Canon within Europe and Japan will bring great benefit to shaping the future of the emerging markets as a key focus for growth at Canon.
Ryoichi Bamba, President & CEO, Canon Europe commented, "In the current challenging business environment, I am reassured to know that the leadership of the Canon Europe Consumer Imaging and Emerging Markets businesses is in very experienced hands."