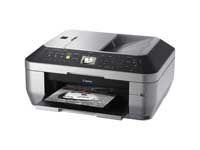 The Canon Pixma MX860 Office AIO printer features Advanced Media Handling with Auto Duplex copying, printing and two-way paper feeding. The Auto Duplexing feature permits two-sided copying/scanning of letter-sized documents, without the need to manually turn over pages and re-feed the document. When copying, this printer even has the ability to scan and print at the same time, which can reduce the amount of time it will take to complete a project.
For the first time, a Pixma Office AIO printer, the Pixma MX860, will have Wireless LAN (802.11b/g) capabilities and an Ethernet network connection built-in for easy printing and scanning with multiple personal computers. In conjunction with Canon's Generation Green initiative, both of these new Office AIO printers will have the Quick Start feature. The LCD changes from the start-up screen to the initial stand-by mode in a few seconds after pressing the power key, enabling input on the buttons to start operation.
For the consumer who is looking for a high-quality Office AIO printer at an affordable price, the Pixma MX330 features a 1.8-inch TFT Color screen, four-color ink cartridge system with a maximum color resolution of 4800 x 2400 dpi and a minimum two-picoliter droplet size to deliver outstanding photo quality. A photo-lab quality borderless 4" x 6" photo can be produced in approximately 45 seconds. The CIS scanner produces a maximum of 1200 dpi opticalcolor resolution scans.
There will be new security features on both Office AIO printers to help protect important documents. One feature is designed to prevent users from misdialing while faxing by asking for a confirmation of the fax number originally entered before the fax is sent. If these two numbers do not match, the fax will not go through. Another security feature is the ability to create PDF files with password protection which will restrict access to printing or editing files without the proper authority.
For the photo enthusiast who is looking for an Office AIO printer that can produce high-quality photos, both Office AIO printers are up to the task. Each printer comes equipped with the ChromaLife100+ ink system, which provides more vibrant and longer-lasting photos. To further enhance the home office photo experience, the hybrid system, which is made up of dye and pigment ink, delivers vivid, beautiful photos on photo paper and sharp, crisp text on plain paper. The Auto Photo Fix feature detects the type of photo being printed and is able to help correct red-eye problems, enhance facial tones and optimize brightness and contrast while improving color saturation to provide better looking photo output without manual photo editing.
The estimated selling prices for the Pixma MX860 and Pixma MX330 Office All-In-One Printers are $199.99 and $109.99, respectively.