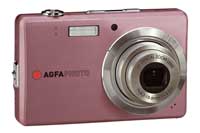 The all new AgfaPhoto Optima cameras can be used to take high definition (HD) photos with an image resolution of 1,920 by 1,080 pixels, in 16:9 format. Intuitive, self-explanatory menu instructions provide up to 28 program functions such as face recognition, smile recognition and blink recognition guarantee that taking photos will be fun and hassle-free. By activating the beauty shot mode, the camera will automatically touch up small skin imperfections, and renders a smooth, and soft color tone on photographed faces. A manually-selectable ISO area of up to 3200 ensures good photos, even when the light is poor. Contrast and brightness can be monitored by a histogram on the LCD display. Additionally, a speech memo function allows audio commentary to be recorded as photos are being taken.
The AgfaPhoto Optima 1 is equipped with twelve megapixel resolution. The 5x wide-angle zoom provides a working optical focal length of 28-140mm. Ambitious hobby photographers can take photos of impressive architecture, large interior rooms, or landscapes, and easily capture all the subject matter. The new AgfaPhoto Optima 1 has a 4x digital zoom and displays photos on a large 2.7" TFT display with 230,000 pixels. The AgfaPhoto Optima 1 camera is available in titanium-colour, and can be purchased for 179 Euros (MSRP, including VAT).
The AgfaPhoto Optima 100 with 10MP resolution is an excellent choice for either novice photographers or hobbyist photographers just getting into digital photography. With 3x optical and 5x digital zoom plus digital image stabilization, the subject matter possibilities become endless. Additionally, 29 functions support the photographer and captured images are rendered on the 2.7 inch TFT display with 230,000 pixels. The camera is compact and will fit into any bag and almost all pockets. The AgfaPhoto Optima 100 is available in chic titanium, red, rose, silver, or black, for 129 euros (MSRP including VAT).
All new AgfaPhoto Optima cameras include a lithium ion battery with charger, instruction manual, USB cable, AV cable, wrist strap, and a CD with graphic software.